Alexis Dubus in summary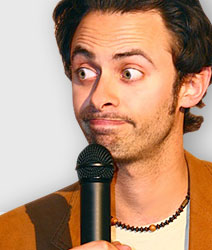 Alexis Dubus is a London-based performer who roams the globe talking nonsense and, more often than not, pretending to be other things.
"Fresh, accessible and hilarious" - The Guardian
Starting off as a sketch-writer and performer with student sketch group Ubersausage! at Edinburgh Fringe he has since made numerous TV and radio appearances all over the world, published a book and written 10 live shows. He also ran and co-hosted the much-loved Falling Down With Laughter comedy club for 6 years with Sy Thomas and is a proud Board Member of the Alternative Comedy Memorial Society. He hosts the Spirits Of The Fringe podcast.
"A unique act on the circuit and, quite simply, one of the funniest" - LondonIsFunny.com
These days you can find Alexis on the comedy, cabaret, spoken word and festival circuits, doing what he does. More of that below...


● Awards / accolades ●
Winner - Best Kids Show 2022 - UK Kids Comedy Festival / Leicester Comedy Festival
Nominated - Malcolm Hardee Award for Comic Originality 2019, Edinburgh Fringe
Shortlisted - Best Comedy Show 2018, Fringe World Awards
Nominee - Best Comedy Show 2016, Fringe World Awards
Winner - Chortle Award - Best Character / Improv / Sketch Award 2015
Top 10 Most Memorable Shows Of 2014 - Chortle (for 'Cars And Girls')
Winner - Mervyn Stutter's Spirit Of The Fringe Award - Edinburgh Fringe 2013
Winner - Fringe World Award - Best Comedy Show 2013
Winner - Alternative Eurovision Song Contest - London Wonderground 2013
Winner - Adelaide Fringe Weekly Awards - Adelaide Fringe 2013
Winner - Amused Moose Comedy Award - Best Comedy Show 2012, Edinburgh Fringe
Nominee - Best International Show 2012, New Zealand Comedy Festival
KeepingUpWithNZ - Best International Show 2012, New Zealand Comedy Festival
Winner - Buxton Fringe Award 2009 - Best Comedy Individual
The Scotsman Fringe First Award 2009 (as part of 'The Hotel')
Three Weeks Editors' Choice Award - Top 10 Edinburgh Fringe Experiences 2008
Chortle Award - Best Small London Comedy Venue 2008 (promoter)
● TV Appearances ●
Tonightly With Tom Ballard / ABC Comedy (2018)
Paul Hollywood's Big Continental Road Trip / North One Television / BBC2 (2017)
Red Dwarf XI / Baby Cow / Dave / UKTV Play (2016)
7 Days / thedownlowconcept / TV3 (New Zealand) (2016)
Flick Electric Comedy Gala / TV3 (New Zealand) (2016)
The John Bishop Show / Lola Productions / BBC1 (2015)
John Bishop's Christmas Show / Lola Productions / BBC1 (2014)
Derek / Derek Productions / C4 (2014)
ACMS Presents... - Channel 4's Comedy Blaps / C4 (2014)
Best Bits / thedownlowconcept / TV1 (New Zealand) (2014)
Pramface / BBC / BBC3 (2013)
Set List / Princess Productions / Sky Atlantic (2013)
Live At The Electric / Avalon / BBC3 (2013-14)
Russell Howard's Good News / Avalon / BBC3 (2012)
End Of The Road / Swift Films / Discovery Channel (2011)
Flashprank / MTV
Visa Comedy Gala / TV3 (New Zealand) (2011)
AotearoHA Comedy Carnival / TV3 (New Zealand) (2010)
The Crunch / Nickelodeon (2005)
Nathan Barley / Talkback / C4 (2005)
Garth Marenghi / Avalon (pilot)
The Bill / Talkback / ITV
MTV On Call / MTV
Let's Write…Non-Fiction / BBC
Bring It On / BBC
● Live shows ●
2019 - 20 - MARCEL LUCONT - NO. DIX - Edinburgh Fringe, Latitude Festival, Machynlleth Comedy Festival
2016 - 18 - ALEXIS DUBUS VERSES THE WORLD - Edinburgh Fringe, Adelaide Fringe, Great Yorkshire Fringe
2016 - 18 - MARCEL LUCONT'S WHINE LIST - Edinburgh Fringe, New Zealand Comedy Festival, Fringe World (Perth)
2014 - 16 - CARS AND GIRLS (new version) - Edinburgh Fringe, Melbourne Comedy Festival, Adelaide Fringe, Brighton Fringe, Fringe World (Perth), Latitude Festival, Also Festival, Shambala Festival, UK Tour
2014 - MARCEL LUCONT IS - Edinburgh Fringe, New Zealand Comedy Festival, Brighton Comedy Festival, Fringe World (Perth), Udderbelly Festival, UK Tour
2012-13 - MARCEL LUCONT: GALLIC SYMBOL - Edinburgh Fringe, Melbourne Comedy Festival, Adelaide Fringe, New Zealand Comedy Festival, Brighton Comedy Festival, UK Tour
2009-present - MARCEL LUCONT'S CABARET FANTASTIQUE - De Parel Spiegeltent, London Wonderground, St James Theatre
2012 - CARS AND GIRLS - Edinburgh Fringe, Bedford Fringe, Buxton Fringe
2011-present - ALTERNATIVE COMEDY MEMORIAL SOCIETY - various venues
2011 - MARCEL LUCONT ETC. - A CHAT SHOW - Adelaide Fringe, Edinburgh Fringe
2010-12 - MARCEL LUCONT: ENCORE - Edinburgh Fringe, Adelaide Fringe, Melbourne Comedy Festival, New Zealand Comedy Festival, Sydney Comedy Festival, Brighton Comedy Festival, Leicester Comedy Festival, Fringe World Perth
2010 - ALEXIS DUBUS - A SURPRISINGLY TASTEFUL SHOW ABOUT NUDITY - Adelaide Fringe, Edinburgh Fringe, Leicester Comedy Festival, Brighton Fringe
2009 - THE HOTEL - Edinburgh Fringe
2009 - MARCEL LUCONT: SEXUAL METRO - Adelaide Fringe, Edinburgh Fringe, New Zealand Comedy Festival, Leicester Comedy Festival
2008-10 - A R*DDY BRIEF HISTORY OF SWEARING - Edinburgh Fringe, Cheltenham Literature Festival, Adelaide Fringe, Melbourne Comedy Festival, Leicester Comedy Festival, Sydney Comedy Festival
2008-10 - CAT OF THE WEEK (sketch group) - London circuit, Edinburgh Fringe, Leicester Comedy Festival
2005-11 - Co-promoter: FALLING DOWN WITH LAUGHTER COMEDY CLUB
2001 - UBERNACHT - Edinburgh Fringe
1999 - UBERSAUSAGE (sketch group) - Edinburgh Fringe
● International Gigs ●
The Comedy Store, Sydney, AUSTRALIA
Hi-Fi Bar, Melbourne, AUSTRALIA
Rhino Room, Adelaide, AUSTRALIA
Stand Up World, Brussels, BELGIUM
The Movie Pub / Studio Smijeha, Zagreb, CROATIA
Prague Fringe, CZECH REPUBLIC
Kino Sõprus, Tallinn, ESTONIA
Apollo, Helsinki, FINLAND
Laughing Horse, Nice / Antibes / Monaco, FRANCE
Théâtre Du Gymnase, Paris, FRANCE
English Language Comedy Night, Heidelberg / Frankfurt / Dusseldorf, GERMANY
Toomler, Amsterdam, HOLLAND
Maastricht University, HOLLAND
Budapest Comedy Club, HUNGARY
Laughter Lounge, Dublin, IRELAND
English Theatre Of Rome, ITALY
Laughter Lounge, JERSEY
The Crackhouse, Kuala Lumpur, MALAYSIA
AotearoHA Comedy Carnival Tour, NEW ZEALAND
The Classic, Auckland, NEW ZEALAND
San Fran Bath House, Wellington, NEW ZEALAND
Stand Up Bergen, NORWAY
Comedy Box, Stavanger, NORWAY
Warsaw Comedy Club, POLAND
Digital October Centre, Moscow, RUSSIA
Private gig, SEYCHELLES
Blu Jazz / DXO / Stereolab, SINGAPORE
Cvetlicarna / Satchmo Club, Ljubljana, SLOVENIA
Town Hall, Cape Town, SOUTH AFRICA
Giggling Guiri, Barcelona and Madrid, SPAIN
Laughter Lounge, Barcelona, SPAIN
The Comedy Store, Los Angeles, USA
Magnet Theatre, New York, USA
Cinematheque, Hanoi, VIETNAM
Alexis Dubus in summer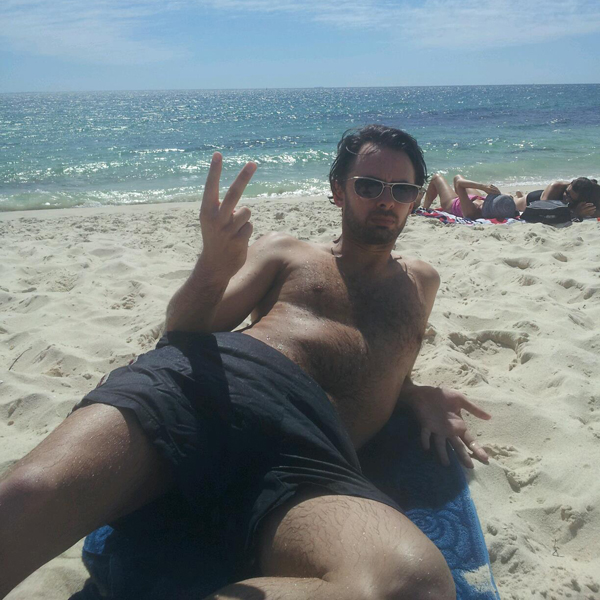 Alexis Dubus in Sumeria